Botox Vancouver | Botox North Vancouver | Botox West Vancouver
Botox is one of treatment options offered at NorthShore Medical Clinic in North Vancouver to help improve expression lines like forehead wrinkles, bunny lines, crow's feet and frown lines. Injections are usually painless, and wrinkles can be smoothed to bring about a more youthful appearance to the face.
Botox treatments are quick and comfortable, and there are usually no visible signs of the procedure after hence it being called a "lunch-time" treatment as many patients even choose to perform this treatment during their lunch break.
Call to book your consultation at NorthShore Medical Clinic in West Vancouver, to see if Botox vs Dysport is the right treatment for you. In the consultation, Our doctors will work with you to create a Vancouver botox treatment concept that is tailored to you and your wishes.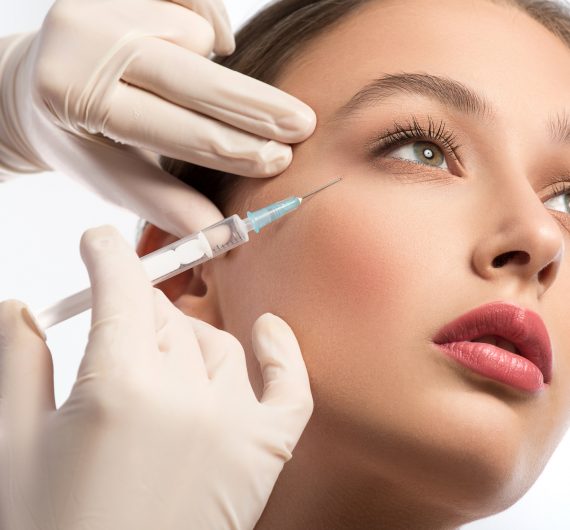 WHAT YOU NEED TO KNOW
ABOUT BOTOX?
Botulinum Toxin (Botox) is a neurotoxin that is produced by strains of bacteria. Botox Vancouver has become a popular anti-wrinkle agent in modern aesthetic surgery. The remedy provides temporary paralysis of the facial muscles so that the face can relax. Through this relaxation process, the existing wrinkles are softened and the formation of new wrinkles is stopped.
Having a wrinkle treatment with Botox does not mean losing your individual expression. The right amount of Botox and the precise treatment of individual facial muscles leads to natural results. 
Botulinum Toxin Type A injection is the most common method used to treat lip lines, forehead wrinkles, frown lines, smile lines and similar wrinkles without cosmetic surgery.
The active ingredient is injected into the muscle, where it inhibits the transmission of signals from the nerve to the muscle. This causes the otherwise permanently tense facial muscles to relax and ensures wrinkle-free, smooth skin.
Botox treatment is most commonly used in the upper third of the face up to the cheekbone arch.
In aesthetic medicine, Cosmetic Botox is the second most commonly used substance next to hyaluronic acid. Botulinum Toxin A is a highly effective active ingredient that is not only used to treat wrinkles, but also to treat excessive sweating (hyperhidrosis) or migraines.
After half an hour at the latest, everyday activities can usually be resumed. The patient is then in no way restricted and immediately socially acceptable again. Major physical exertion, such as sports, going to the sauna or swimming pool, should be avoided on the day of treatment. Since the Vancouver Botox can spread for 1 to 3 hours after the treatment, the patient should not lie down during this period.
A Botox treatment in North Vancouver can help you to achieve a significant increase in well-being and self-confidence through increased attractiveness and rejuvenation of the face. An attractive, young appearance and a wrinkle-free face are no longer just a female ideal of beauty. More and more men are also using Botox or filling materials (botox fillers such as hyaluron, collagen or autologous fat) to eliminate wrinkles.
Botox an operation and anesthesia are not necessary.
The cost of a Botox treatment largely depends on the region to be treated. Depending on whether smaller parts of the face such as frown lines are involved or whether several areas are to be treated, a smaller or larger amount of Botox is required and the price is therefore determined.
Botox is a neuromodulator, which is a protein derived from the Bacterium Clostridium Botulinum.
Neuromodulator is a purified, natural protein that relaxes wrinkle-causing muscles, creating a smoother and improved appearance.
Treatment with Botox is safe, simple and an effective modality for reduction of forehead wrinkles.
Are There Other Neuromodulators?
Yes. Botox is one of the neuromodulators available in North America. Other similar neuromodulators available in North Vancouver BC include Dysport, Xeomin and Nuceiva. All these products are variants of Botulinum Toxin A. At NorthShore Medical Clinic, we empower our patients by offering them a variety of products and counselling them on strengths and benefits of each.
Botox blocks the release of messenger substances at nerve endings.
Neuromodulators are used to treat "Dynamic" wrinkles, which are the wrinkles that are caused with muscle movement. The effect of Botox on these muscles, cause a more smooth, relaxed and improved appearance of these wrinkles.
Although "Static" wrinkles which are the lines on cheeks, neck and jowls, do improve using a neuromodulator, usually this treatment alone is not enough and combining Botox with dermal fillers or resurfacing lasers would lead to best results.
Botox vs. Dysport, Is there a difference?
The most widely used muscle relaxer is Botox, considered to be the gold standard. Dysport treats the same areas as Botox.
It's reported that Dysport delivers faster results than Botox. Typically, Dysport results are visible within 1 to 2 days, while Botox can take up to 5 days, but Botox typically lasts that much longer. Neither of the treatments are not permanent and must be repeated every 3 to 4 months to continue their effect.
How Are Neuromodulators Administered?
Neuromodulators are administered via a series of tiny injections into the muscles. These Botox injections are simple, quick and virtually pain-free but do deliver a dramatic result with no downtime.
Our doctors inject you with the Vancouver Botox clinic with a special, extremely thin needle, so that you only feel a little of the treatment apart from a slight prick. During the treatment, which only lasts a few minutes, the active ingredient inhibits the conduction of stimuli from the nerve to the muscles, thereby relaxing the muscles and skin. Depending on the dosage, the injection of Botox inhibits or completely prevents the contraction of the muscle. By relaxing the respective muscles, the corresponding wrinkles are smoothed out.
How Long Do the Results Last?
Maximum effect of neuromodulators usually occur 10-14 days after the injection. Results may last up to 3-4 months, at which point, re-treatment is recommended. Results usually last longer with repeated maintenance injections.
What are the reasons for botox treatment in Vancouver?
From the age of 20, cell renewal in the epidermis slows down and the production of endogenous support substances such as collagen and elastin decreases slightly. As a result, the skin loses its resilience and elasticity with increasing age. The result is slack skin and wrinkles. The formation of wrinkles is also promoted by muscle contraction of the facial muscles.
Who Is Performing the Treatment?
Medical spas, day spas, dentists, physicians, etc. offer injectable treatments, but ultimately bad results are usually caused by the injector, not the product.
No matter which type of injection you choose, to ensure a successful outcome, it's important to select the right professional to administer it. Our physicians at NorthShore Medical Clinic in North Vancouver are skillfully trained, are Canadian board-certified and carefully and thoroughly discuss which injectable is right for improving your wrinkles before you begin your treatment.
Which wrinkles can be treated with Botox®?
In our Botox Clinic in West Vancouver, we treat the following wrinkles with Botox: tear trough, lip lines, botox for forehead wrinkles, forehead lines, bunny liness, botox for frown lines, nasolabial folds, smile lines, crow's feet, glabellar lines, marionette lines, bunny lines, chin botox, lip botox.
In addition, North Vancouver Botox injection can be used for lip flip, jaw, jaw clenching, bruxism, teeth grinding, teeth grinding, gummy smile, hair treatment, face slimming, brow lift, TMJ, migraine, headaches, sweating, under eyes, eye bags, eyebrow lift treatments.
NEUROMODULATORS FOR EXCESS SWEATING
Hyperhidrosis, is a medical term for excessive sweating. People with hyperhidrosis may sweat even when the temperature is cool or when they are at rest. Neuromodulators may be used to treat hyperhidrosis after deodorant and medications have been tried without success. Neuromodulators are natural, purified proteins with the ability to temporarily block the secretion of the chemical that is responsible for "turning on" the sweat glands. By blocking, or interrupting, this chemical messenger, botulinum toxin "turns off" sweating at the area where it has been injected. Botox in Vancouver is injected just below the surface of the skin, where it remains superficially. This procedure is extremely effective, though can be costly.
By injecting the affected are with Botulinum Toxin, sweating will be reduced for approximately 6-9 months.
Are You Looking For An Experienced Clinic For Botox In Vancouver?
If you want to have Botox in North Vancouver, you can leave yourself to our experts with peace of mind. Don't miss Botox deals and discounts near you! We treat wrinkles with Neuromodulators (Dysport Botox) every day in North and West Vancouver BC, Canada.