Laser Hair Removal Vancouver
Laser Hair Removal Vancouver
Would you rather stay hair-free permanently? A treatment in our laser clinic for laser permanent hair removal in Vancouver offers you an aesthetic and gentle long-term solution to effectively remove unwanted hair from all over the body.
Disturbing hair that can only be removed for a short time by shaving, epilation or waxing does not offer an ideal solution. The conventional methods are not only painful, time-consuming and have to be repeated over and over again, but also often lead to skin problems such as ingrown hairs and pimples.
Call to book your consultation at North Shore Medical Clinic in North Vancouver, to see if Laser Hair Removal is the right treatment for you.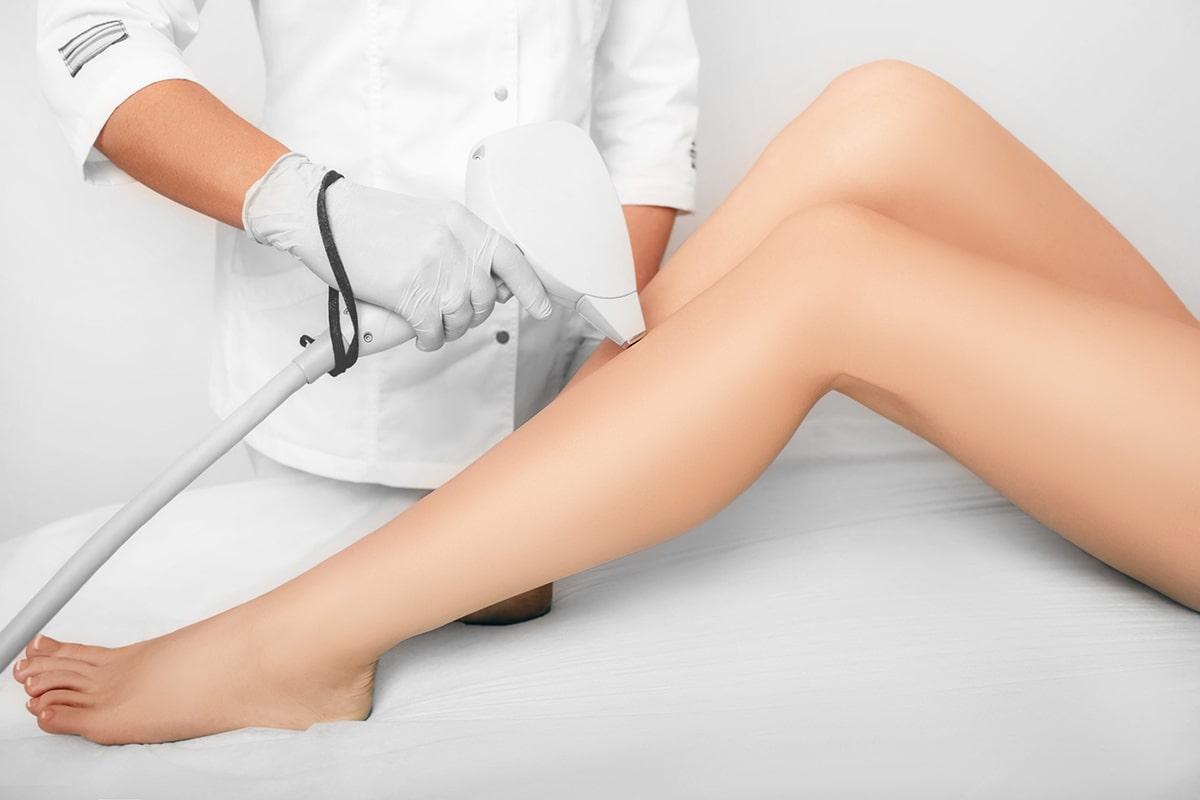 WHAT YOU NEED TO KNOW
ABOUT LASER HAIR REMOVAL?
Hardly anything looks more attractive and well-groomed than silky smooth skin.
Say goodbye to itchy stubble, razor burn and irritated skin. The painless cosmetic laser hair removal treatment takes place in a relaxed atmosphere on our clinic.
The duration of treatment depends on the area of ​​skin to be treated and its size. The number of sessions required varies depending on the area of ​​skin to be treated and the color and thickness of your hair. On average, between 6 and 13 sessions at intervals of 3 to 12 weeks are required for the cosmetic treatment of laser hair removal. The individual sessions are adapted to the life cycle of the hair. Laser treatment is used on hair that is in the active growth phase (about 30% of your hair).
How many sessions does permanent laser hair removal require?
Experience has shown that at least 6 to 8 treatments are necessary for a permanent result. This is due to the fact that the life cycle of a hair consists of three phases: growth phase, transition phase and resting phase. Laser hair removal only treats hair that is in the growth phase at the time of treatment. That's only about 20 to 30 percent. Therefore, the next session should be planned according to the following growth phase.
Can permanent hair removal have undesirable effects?
Some women and men only experience laser hair removal as a slight tingling sensation on the skin. Others with very strong, dark and dense hair growth notice significantly more of it. The application can cause reddening of the skin or slight swelling. They usually go away a short time after treatment. Other undesirable effects such as skin burns are extremely rare with an experienced practitioner.
Which parts of the body can be treated with laser hair removal?
Permanent hair removal in the bikini area, in the intimate area, upper lip, ear, chin, legs, face and underarms is particularly popular with women. Men, on the other hand, usually have hair removed from their backs, shoulders, chests and stomachs. In principle, best laser hair removal can be carried out on (almost) any part of the body.
What should I consider after the laser hair removal treatment?
After safe laser hair removal, you should above all take care of your skin and avoid anything that could cause irritation for the next few days: sunbathing, saunas or swimming. Also, do not use alcohol-based creams or perfume. Instead, nourish your skin with fragrance-free moisturizers. We recommend a high quality and cooling aloe vera gel.
Laser Hair Removal Prices
Permanent laser hair removal service in North Vancouver BC at a fair price-performance ratio!
Every person is unique, as are their needs. We would be happy to advise you on your individual requirements. We offers a simple, comprehensive permanent hair removal solution in Vancouver that suits your individual needs. We can treat all possible skin and hair types – fair, darker or tanned skin with thick or fine hair.
Are You Looking For An Experienced Clinic For Permanent Laser Hair Removal In Vancouver BC, Canada?
Modern laser technology with top results. No more shaving, no more hair removal.